Sibelga is actively involved in building a low-carbon future in Brussels for the benefit of the whole community.
Driving the energy transition for Brussels
Sibelga supports the public authorities in achieving the climate objectives set by the Brussels Government. This includes energy efficiency in buildings, reducing greenhouse gases and increasing renewable production.
Our actions
More energy efficiency = less CO2 in Brussels
Sibelga helps the public authorities to carry out energy efficiency work in Brussels' public buildings. This includes, for example, the modernisation of boiler rooms, the optimisation of heating control and the complete renovation of buildings. What's on the agenda? Cleaner air for all!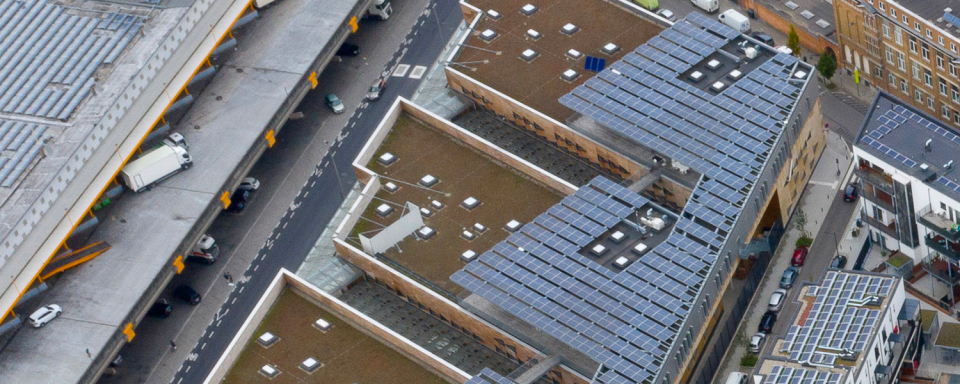 The work carried out in 2020 is expected to reduce CO2 emissions by approximately 233 tonnes per year.
Growth of solar panels in Brussels
By the end of 2020, more than 100 solar panels had been installed on the roofs of public buildings with Sibelga's help.
In total, these panels save almost 4,000 tonnes of CO2 or almost 600 trips around the world in a diesel car per year!
Access to green energy for all
Energy communities allow citizens to pool the energy produced locally by solar panels. Sibelga acts as a facilitator and neutral partner in this new market.
Keeping Brussels in the know
As a neutral player in the energy market, Sibelga facilitates access to objective and reliable information for the people of Brussels. In this way, we are laying the foundations for building the Brussels of tomorrow together.
Our actions
Free and reliable energy information for everyone!
It's difficult to separate fact from fiction in all the information about energy that's out there. This is why Sibelga has launched Energuide.be, a comprehensive concept that provides free, practical and concrete information to the people of Brussels. It takes the form of a website, a paper magazine and a newsletter. This is a long-term initiative – the first edition of the magazine was issued in March 2012!
Approximately 260,000 people visit the Energuide website each month. The paper magazine is sent twice a year to all Brussels residents. In addition, the monthly Energuide newsletter has over 39,000 subscribers!
A podcast to help explain the energy transition in Brussels
"Transition" is an audio series that sheds light on the transformations in the energy sector. Through interviews, this podcast talks about the concrete solutions put in place to improve the quality of life of all Brussels residents.
Energy days in PCSWs
Sibelga participates in information days organised by the PCSWs to raise awareness of energy consumption among low-income families. A game has been designed to identify which household appliances consume the most energy.
Reducing our carbon footprint
Putting in place solutions to reduce greenhouse gas emissions in Brussels is all well and good, but we must not forget to look at what is happening at home! For many years, Sibelga has been doing its utmost to reduce its carbon footprint and to take action for the environment "in its own backyard".
Our actions
Self-generation of green energy
At its site on the Quai des Usines, Sibelga generates almost a quarter of its own energy needs, mainly via solar and cogeneration installations.
In 2020, Sibelga covered no less than 23.85% of its energy needs!
Sustainable procurement policy
Sibelga includes sustainable criteria in all its calls for tender. We have therefore embarked on a policy of greening our utility fleet, which totals around 400 vans used for field operations.
The aim? To achieve 50% of CNG or electric commercial vehicles by the end of 2021.
Protecting biodiversity
Since 2015, the roof of the passive building located on the Sibelga site has been home to 3 beehives managed and monitored by the company BeeOdiversity. The bees contribute to pollination in Brussels and raise awareness of biodiversity among staff during organised visits. An analysis carried out by BeeOdiversity allows us to check the good health of the colonies and to take action to improve it if necessary.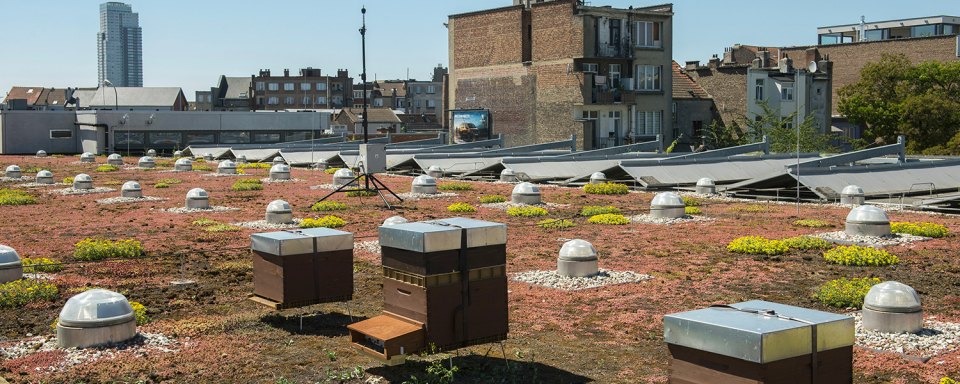 In 2020, 195 280g jars of honey were collected from Sibelga's hives.
Recycling our computer equipment
Sibelga works with Out Of Use, a specialist in the recycling of IT and electrical equipment, for the collection, reuse or recycling of its PCs and smartphones.
For every PC or smartphone collected, Out Of Use makes a donation to the association Natuurpunt to support its tree planting activities.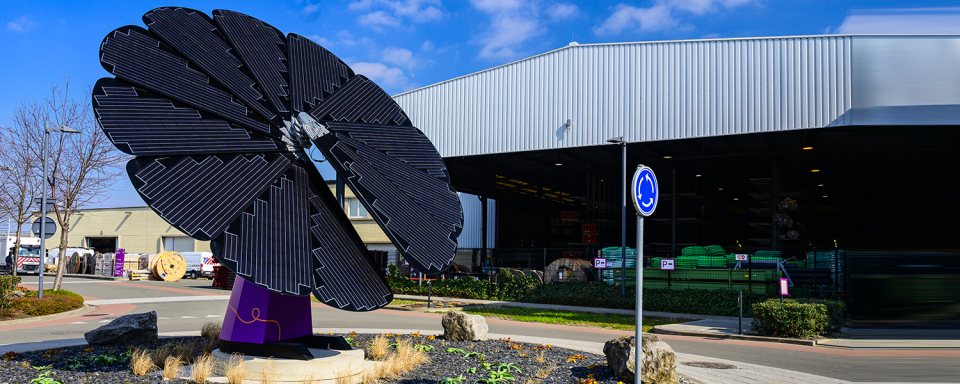 Calculating our carbon footprint
Reducing your ecological impact effectively always starts with an assessment! In order to calculate its carbon footprint as accurately as possible, Sibelga takes into account a broader scope. The calculation takes into account not only the carbon emissions directly linked to our activities (for example the emissions from our technicians' vehicles or our buildings), but also the indirect emissions upstream and downstream of our activities (purchase of materials, employees' commuting, waste, etc.). This global vision will enable us to adopt even more efficient actions to reduce our emissions.
Sibelga: a dynamic 3-star company
Sibelga's actions to reduce its own carbon footprint have earned it the title of 3-star ecodynamic company. This label rewards companies, associations and institutions in Brussels that act to reduce the impact of their activity on the environment.