If you have your own parking space, a home charging station is the ideal solution for charging your electric car. However, there are several important points to consider for a proper installation.
Why a Charging Station?
Regular outlets are not designed for charging electric cars. They're unsuitable for the required charging time and power. Besides the risk of overheating and fire, charging is very slow because the charging current is limited. Therefore, it's not permitted to charge directly via a regular outlet without protection in the charging cable and without control over the start of charging (mode 1).
How to Connect to the Electricity Grid?
If you want to install a charging station for:
a single-family home
a building with a maximum of 3 apartments, 3 parking spaces, or 3 independent garages
Then you have 2 options: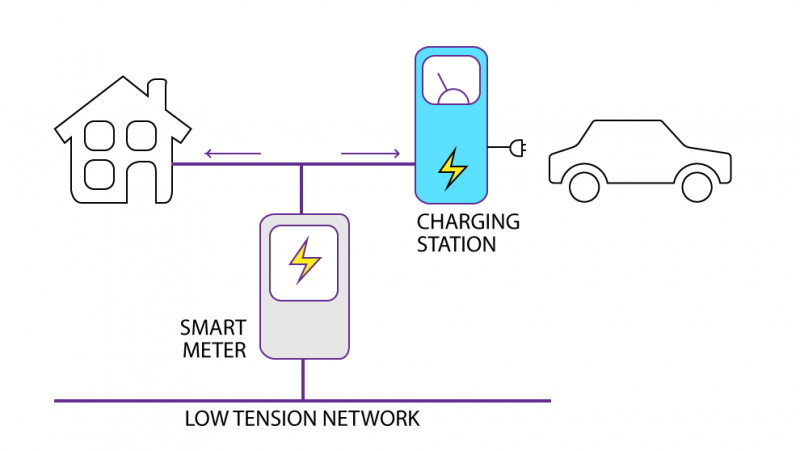 Standard solution (recommended)
The charging station is installed behind the existing electricity meter. There is then one smart meter for both the house and the charging station.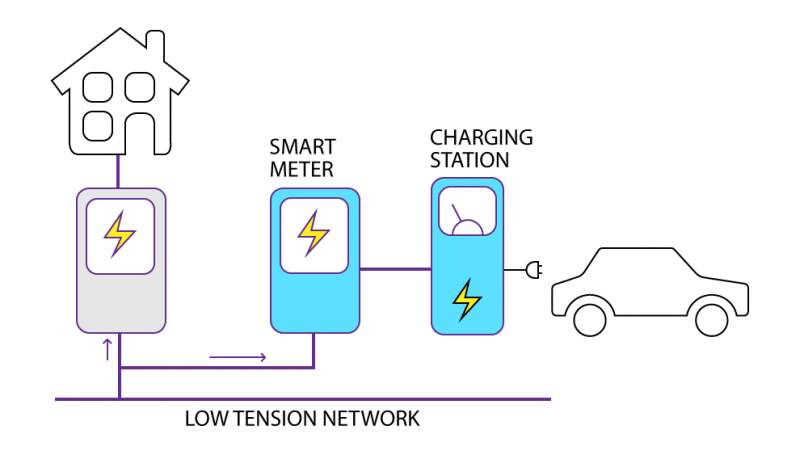 Alternative solution
The charging station has its own meter. A smart meter is therefore installed for the charging station on a specific circuit (shown in blue in the image)
Good to know
Don't have a smart meter yet? Replacing your electricity meter with a smart meter is free if no upgrade is needed. Request your free smart meter.
Which charging power to choose?
It's important to choose a charging station power that suits your needs.
A vehicle is stationary for about 95% of the time. If you come home in the evening and go back to work the next day, 12 hours are more than sufficient to fully charge your car with 3.7 kW.
The recommended power for a home charging point is 3.7 kW, which is sufficient in most cases. (NB: a charging station can contain several charging points - be aware, we only accept one charging point per station by default)
It's also possible to install a higher power, depending on your needs (see the table below). The type of network voltage that your home is connected to will also affect the power of the charging station you can install:
Meter
Network Voltage
3,7 kW
(16 A mono)
7,4 kW
(32A mono)
11 kW
(16A tri)
22 kW
> 22 kW
1x230V
400V
✔️
⛔
⛔
⛔
⛔
1x230V
230V
✔️
✔️
⛔
⛔
⛔
3x230V
230V
✔️
✔️
⛔
⛔
⛔
3Nx400V
400V
✔️
⛔
✔️
⛔
⛔
Prefer a charging station that can perform smart charging, so it will allocate more or less power depending on your domestic electricity consumption.
Is my electricity meter's power sufficient?
Make sure your electrical installation is powerful enough. So, don't hesitate to check the power of your meter.
Depending on the power of the charging station you want to install, you may need to increase the power of your connection. You can make a request to change the power of your meter.
Do I need to yegister my charging point?
Yes. Once your charging station is installed, you are legally obliged to report it to Sibelga, as specified in the Electricity Ordinance. This notification is mandatory for every charging point of mode 2, 3, or 4.
What If I live in a co-ownership building?
It's possible to connect your charging station directly behind your own meter for residential buildings with up to 3 appartments, 3 parking spaces, or 3 independent garages.
For larger buildings, you need to contact your syndic or the co-owners' association to find a joint solution.
Download the complete technical regulations
Want to know more about the technical regulations for installing home charging points? Download our full technical specifications for connecting your charging station.
Download document