Do you wish to install charging stations for electric cars in a building with more than 3 dwellings, 3 parking spaces, or 3 independent garages?
In this case, you must mandatorily consider the charging stations collectively, for instance, by placing the charging stations behind a common separate electricity meter. This solution saves you installation costs and ensures safe charging for the entire building and its residents.
Why a Separate Meter?
The power capacity of a building is not calculated to charge electric cars. If each resident installs a charging point on their own meter, this can lead to an exceedance of the available capacity in the building. Simultaneous charging of vehicles could damage the power supply of all apartments.
Opt for a Common Meter
To prevent this, the recommended solution is to place a common meter for all charging points. This solution offers many advantages:
A single energy contract for all tenants or owners
Lower installation costs for current and future charging station owners
Protection of the building's connection through correct sizing of the installation
Easy to expand with new charging points in the future
Better efficiency through load balancing and automatic phase distribution
You can opt for the building's common parts meter or have a separate meter installed specifically for the charging stations: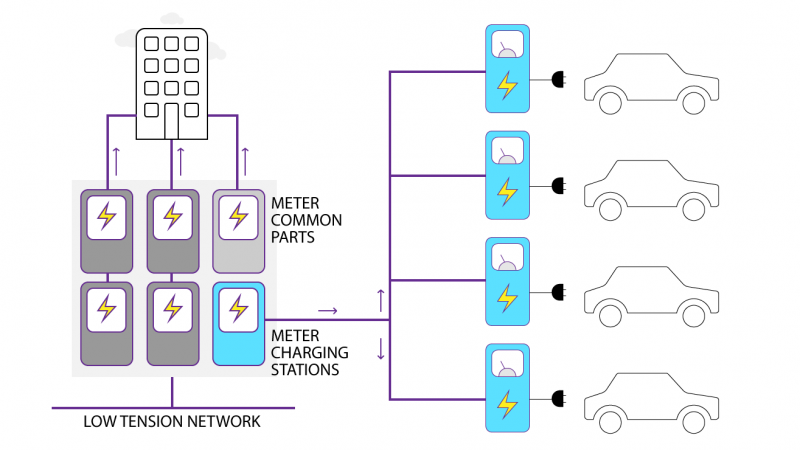 Solution 1: the charging stations are installed behind a specific smart meter, intended only for charging electric vehicles.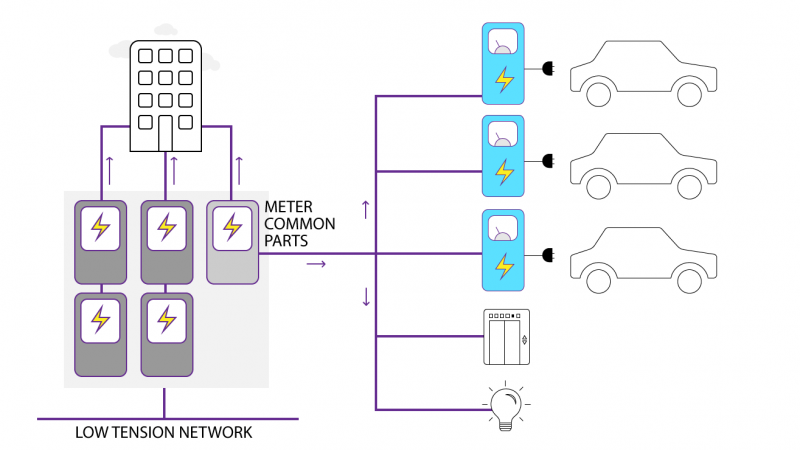 Solution 2: the charging stations are installed behind the building's common meter.
In this case, the energy contract is concluded in the name of the syndic or the co-ownership association. They will also arrange the distribution of consumption for each charging point.
It is also possible to install separate smart meters for each charging station if the syndic or the co-ownership association requests it. This method must then be applied to all charging stations.
A mandatory smart meter
To be able to install the charging stations in your building, the electricity meter used must be a smart meter. Does the building's common meter already have sufficient capacity but it's not a smart meter yet? Then the syndic or co-ownership association can have it replaced for free.
What Type of Charging Point Can Be Placed in a Building?
The maximum power per charging point in a building is 11 kW (NB: a charging station can contain several charging points). The available power for the charging points also depends on the voltage of the building's electrical connection:
3,7kW
(16A mono)
7,4kW
(32A mono)
11kW
(16A tri)
22kW
>22kW
3x230V
✔️
✔️
⛔
⛔
⛔
3Nx400V
✔️
⛔
✔️
⛔
⛔
Beware of overloading
To prevent overloading, we recommend a load-balancing system. It's even mandatory when the total installed power of the charging points exceeds the contractual power of the building's connection.
Load balancing ensures a good distribution of the available power across all cars. It also prevents exceeding the building's power when many users charge their cars simultaneously.
Without load balancing
The available power does not allow all cars to be charged at the same time. There is a risk of overloading.

With Load Balancing
The charging power is dynamically adjusted to the available power. All residents can then charge simultaneously at a reduced power that takes into account their needs.

Contact Your Syndic
This subject must be discussed with the syndic or the co-ownership association so they can assess the needs of the entire building. They need to consult all building residents and gather the following information:
number of parking spaces;
number of charging points to be installed in the coming years;
power per charging point;
desired connection voltage (230V or 400V);
does the building already have a smart/electronic meter?
Once this information is collected and a technical solution is considered, your syndic can submit a quote request to Sibelga.
Get guidance
To get support in assessing the needs and designing your project, your syndic can contact the Brussels Environment facilitator. The facilitator can also provide answers to all your questions about safety, current standards, billing management, etc.
Once you have a clear understanding of your needs, Sibelga can assist you with the network connection and the power to be provided.
Don't forget to register your charging station
Once the charging stations are installed, it is legally required to register them with Sibelga, as specified in the Electricity Ordinance. This registration is mandatory for every charging point of mode 2, 3, or 4. You or your syndic can easily register your charging point online via our charging station registration form.
Download our technical regulations
Read here the complete technical regulations for installing charging stations in a building with more than 3 appartments, 3 parking spaces, or 3 independent garages.
Download document