Do you wish to install charging stations for electric vehicles behind your own high-voltage cabin?
If your building has its own high-voltage cabin, charging stations can usually be connected directly to it. What power may you install?
11 kW charging points are the preferred solution. Note: a charging station can contain multiple charging points.
For powers above 22 kW, charging in mode 4 (DC) can also be considered.
Sibelga will determine the available power based on your request and a study.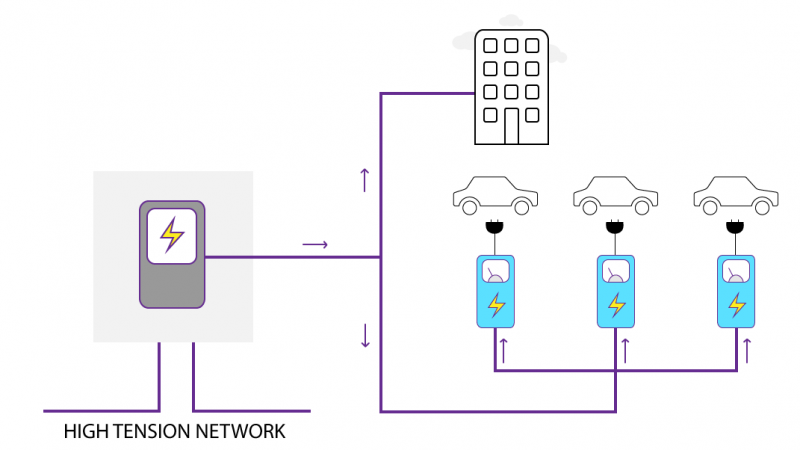 Standard solution (recommended): the charging stations are directly connected to the high-voltage cabin.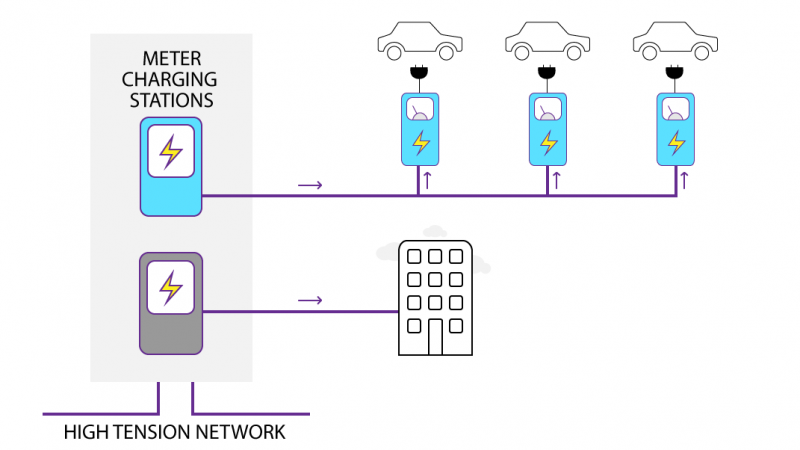 Alternative solution: the charging stations are connected to a separate meter.
Beware of overloading
To prevent overloading, we recommend a load-balancing system. It is even mandatory when the total installed power of the charging points exceeds the contractual power of the building's connection.
Load balancing ensures a good distribution of the available power across all cars. It also prevents exceeding the power of the building when many users charge their cars simultaneously.
For example: If your contractual power is 100 kVA, and you want to install 10 charging points of 11 kW each (total 110 kW), then your contractual power is 10 kW lower than the power you want to install.
You can set each charging point so that the power stays below 10 kW, or you can install a load-balancing system that distributes the power when all 10 charging points are used simultaneously.
Get guidance
To get support in assessing the needs and designing your project, your syndic can contact the Brussels Environment facilitator. The facilitator can also provide answers to all your questions about safety, current standards, billing management, etc.
Once you have a clear understanding of your needs, Sibelga can assist you with the network connection and the power to be provided.
Don't forget to register your charging station
Once the charging stations are installed, it is legally required to register them with Sibelga, as specified in the Electricity Ordinance. This registration is mandatory for every charging point of mode 2, 3, or 4. You or your syndic can easily register your charging point online via our charging station registration form.
Download our technical regulations
Read here the complete technical regulations for installing charging stations in a building that has a high-voltage cabin.
Download document